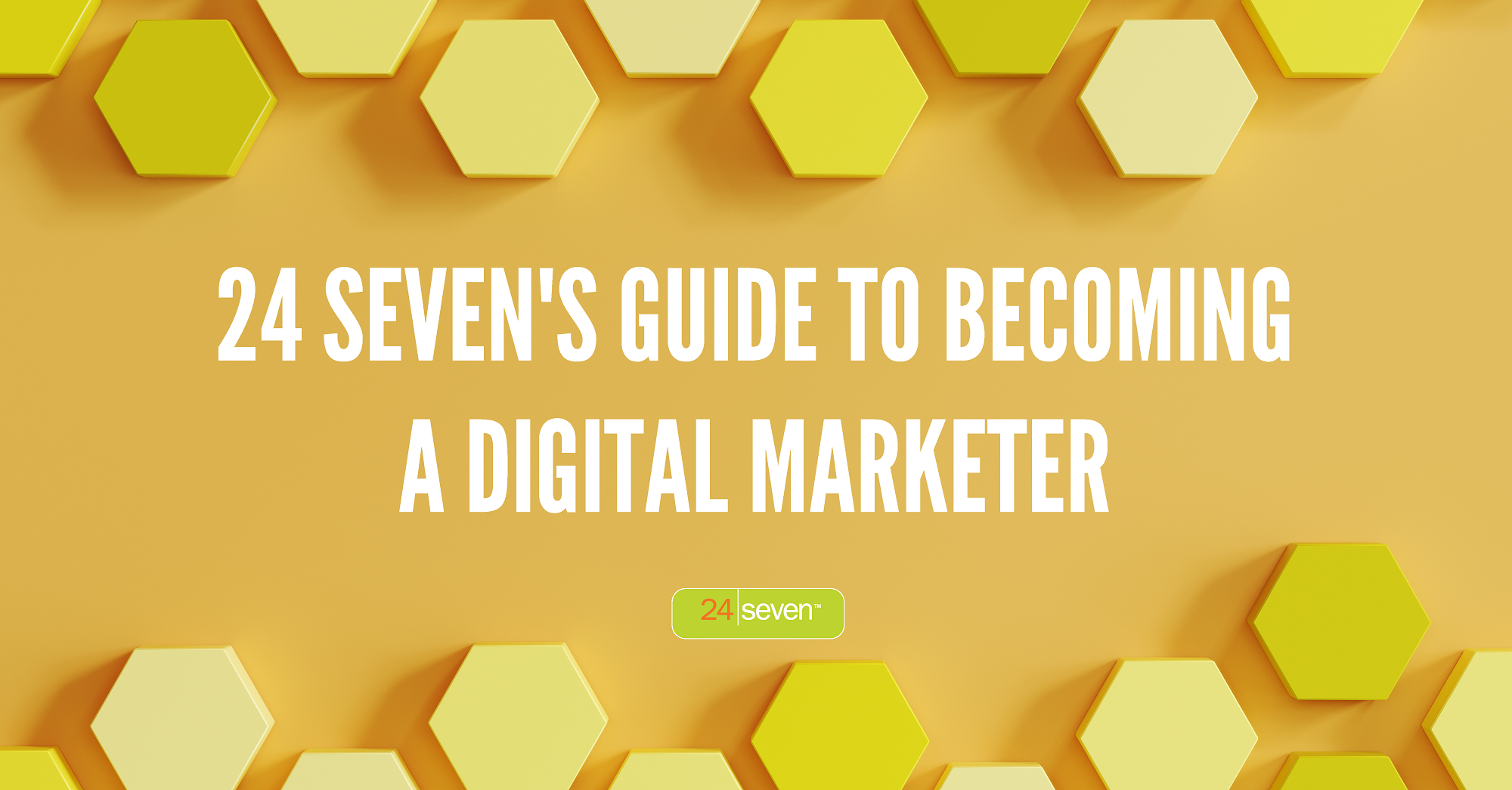 Are you interested in starting your career in digital marketing? Do you already work in the field, but are looking to add to your skillset and expand your knowledge? We can help. At 24 Seven, we've been helping the brightest talent in a variety of creative fields maximize their career potential, and our recruitment professionals know what it takes to land the best digital marketing jobs. Wherever you fall, this resource covers the skills and experience needed, career options, trends, and best practices in the digital marketing industry.
Tools to Be a Digital Marketer
Digital marketers typically work closely with key stakeholders on e-Commerce, branding, creative, and social teams to execute breakthrough campaigns, so the skills needed can vary widely. Digital advertising, SEO/SEM, email marketing, content creation, and website development can all play a role in a digital marketing campaign, so some degree of fluency across these channels is useful. It's also important that digital marketers understand how to create a compelling voice across social platforms to build authentic, relevant, interactive client/customer relationships. Because of this, almost every digital marketing job will require one to have strong communication skills, especially when it comes to content writing and copywriting.
To stand out, build a strong knowledge of the current digital marketing landscape and where it's headed, and learn to interpret and apply those trends to current programs in place. Other standout skills include research and analytical capabilities, superior problem-solving skills, and creative, out of the box thinking. The digital world is unpredictable and constantly changing, which means strong judgment on how to identify potential issues is imperative.Bonus tip: stay up to date on new social media tools, best practices, and how other organizations and companies are using them – check out our Digital Marketing Toolkit.

How to Get a Digital Marketing Job As a Recent Grad
If you're a recent digital marketing graduate, it's important to go beyond your coursework – you need to keep up with evolving trends. Here are some of the top Digital Marketing roles we're seeing pop up everywhere:
Interactive content and live and expiring social media require customers to act quickly, and social media managers, coordinators, strategists, and specialists need to act even quicker. That means digital designers, developers, and marketing specialists like Coordinators, Managers, and Media Specialists all continue to play important roles in the digital landscape.
Currently, the highest-paying digital marketing jobs are Data and Web Analytics, SEO/SEM and UX (User Experience) positions. SEO/SEM specialists help reach company objectives and have become a prime concern for digital business organizations. Analytics is also a huge market because it negates the need for trial and error in deciphering which marketing strategies are successful. A great asset for analytics training is the Google Analytics Academy, which is an incredible way to put yourself ahead of the competition. Along with analytics, UX or user experience is extremely important in understanding consumer behaviors through the science side.

Think Fast
One of the hottest trends in digital marketing is interactive content. With the proliferation of smartphone integration into all aspects of life, there is a major demand for digital marketing that works like the print and stand-up ads of the past. Brick and mortar stores are battling online retailers, so they have come up with apps that offer shoppers coupons and deals as they walk the aisles.
Online video now accounts for up to 50% of all mobile traffic, and with social media becoming a dominant player in the marketing field, there is a need to create marketing that will be quick, but remains imprinted in consumers' minds. This is why we're seeing the rise of Instagram Stories, but we can expect this trend to continue to develop.
Set Yourself Apart
The digital marketing world is constantly changing, and with that, technology is evolving at a rapid pace. Stay current, continue learning, and map it out. If you don't have a solid yet scalable road map, things can spiral out of control very quickly.
One great way to set yourself above the competition is to work on your Business Process Management (BPM) skillset. BPM focuses on improving corporate performance by managing and optimizing a company's business processes. The ideology behind creating process management can be applied across the digital marketing field: if you can create and streamline process management in a company, you can apply it to your own work on a smaller scale to ensure your projects are successful.
The technology that will help you document, analyze, and improve an organization's digital marketing is evolving so rapidly that finding the solution that works best for you will take some time, which is why it is incredibly important to stay in-tune with your industry and keep a pulse on new tools that come along the way.

Now Get Out There
Finally, don't forget to get out there and meet people. Networking is a key to success no matter what the industry, and that's why it's critical to continue attending digital marketing career and networking events. Always dress for the position you want and present yourself as someone who believes in personal well-being. We understand that different segments of the digital marketing field have unique dress code standards, but your first impression may be your last, so make it count.
Consider reaching out ahead of time, your proactive approach might lead to them giving you access to people that are critical to your needs and skills. It is also fantastic to add industry leaders to your network. Prioritize who you might want to connect with and have a strategy or two that increases the possibility of paths crossing.
Find Your Dream Digital Marketing Job
We hope these tips help you take your digital marketing career up a notch, but if you really want to take things to the next level, there's nothing as effective as an experienced creative recruitment agency. At 24 Seven, our expert recruiters have helped our members find the best digital marketing jobs for nearly two decades. Ready to join us? Contact us today!
Additional Resources